Betsy Ross Bridge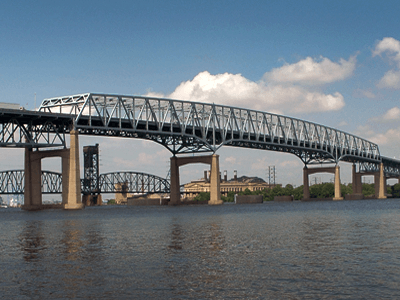 The Betsy Ross Bridge is a continuous steel truss bridge across the Delaware River connecting Philadelphia, Pennsylvania, and to Pennsauken, New Jersey.
Connects: Philadelphia to Pennsauken, NJ
Initial Investment: $102.3 million
Began Construction: June 12, 1969
Opened to Traffic: April 30, 1976
2022 Two Way Traffic: 7.3 million vehicles
Number of Lanes: 6
Modes of Transportation: 1. The bridge provides vehicular lanes only.
Width: 90' travel lanes (curb to curb)
Length: 8,485' (abutment to abutment)
Navigable channel width: 400'
Navigable channel depth: 40'
Structural steel weight: 29,325 tons
Foundation type: Piles (main piers), and piles (approach piers)
Type of connection: Weld (shop) and bolt (field)
Roadway surface: Asphalt
Type of paint: Urethane Alkyd
---
DIRECTIONS
---
TRAVEL ADVISORIES
I-95 South Detour Starts April 11
PennDOT will fully close the ramp to I-95 South from the Betsy Ross Bridge & implement a new detour beginning Monday, April 11, 2022 through mid-2023. PennDOT will detour I-95 South bridge traffic to the Bridge Street Interchange to access I-95 S. Click here for details.
---

Monday

2 lanes to PA; 2 lanes to NJ
Tuesday

2 lanes to PA; 2 lanes to NJ
Wednesday

2

lanes to PA; 2 lanes to NJ
Thursday

2 lanes to PA; 2 lanes to NJ
Friday

2 lanes to PA; 3 lanes to NJ
---
PHOTO GALLERY